A gentle, safe and effective professional whitening method, Lumibrite Chairside Whitening produces whitening results in as little as 30 minutes of treatment time.

Formulated with 35 percent hydrogen peroxide, this professional whitening system can be used by your dentist with or without a light. However, when used in conjunction with the Sapphire Supreme Light (highly recommended), the system is proven to produce greater whitening effects.

Lumibrite uses the combination of a desensitizer and patented whitening gel to reduce the chairtime required for effective teeth whitening. Also, with fluoride as an added benefit, teeth are protected from demineralization and caries.

Lumibrite Tooth Whitening Consultation and Treatment Planning
Before deciding whether Lumibrite in-office tooth whitening is right for you, Dr Samhat will first conduct a comprehensive examination of your teeth and gums to ensure proper health, as well as talk with you about your oral hygiene and lifestyle habits to determine if you will benefit from tooth whitening procedures. This will help you and your dentist agree on the tooth whitening product or technique that's best for you.
Dr Samhat may also require you to undergo tooth whitening if you are planning other cosmetic dental procedures — such as veneers or composite bonding — in order to ensure a better match between the restoration and your natural dentition, or after the removal of braces.
During your consultation and evaluation, your dentist also will note existing dental work, such as crowns and veneers, which will not respond to conventional whitening agents.
Creating brilliant, white smiles with new Technology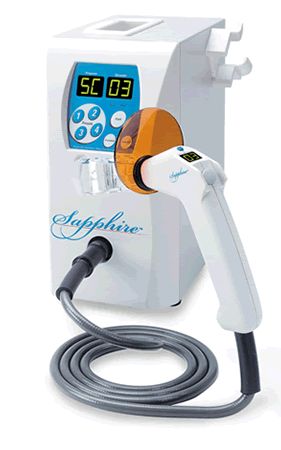 Sapphire Supreme
generates and delivers maximum curing and whitening power to the restoration with the new Power Conversion Technology. This power train forms a coherent beam of light for the fastest curing and hardest composites no matter the distance. Or, with the patented Whitening Crystal, gently illuminate both arches for hands-free whitening to achieve up to 12 shades whiter in only 60 minutes with the New Sapphire Chairside Whitening Gel. No other light has the remarkable performance of the Sapphire Supreme, and independent research proves it.
Sapphire Supreme has been proven #1 for composite hardness in just 5 seconds when compared to other popular lights using recommended curing times. Fast and complete curing is all about getting the greatest total energy to the restoration. Independent research at a leading university shows that the Sapphire Supreme got it right! Sapphire delivers the greatest total energy in just 5 seconds to produce the hardest top and bottom restoration surfaces.